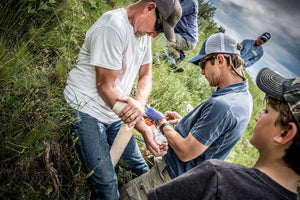 Foundational Trauma Care
TACTIC's Foundational Trauma Training will provide you with both the technical knowledge and mental fortitude to deal with emergency medical situations. This course is designed to prepare you for real-world situations that you very well may encounter in everyday life. Scenarios like car crashes, hiking/hunting accidents, gunshot wounds, broken bones,  and more. Not only will you be taught life-saving medical techniques, but you'll also be able to practice them hands-on with live role-players.
What you will learn:
- "STOP THE BLEED" - For completion of this course you'll receive the ACS Stop-the-Bleed certificate
- Hands-on tourniquet application: get practice and coaching applying TQs to yourself and others
- Hands-on wound-packing and dressing: pack a gunshot wound in a human analog, and apply Israeli or other field dressings
- Range and EDC medical gear: what to carry on your battle-belt and our civilian EDC
- Hands-on scenarios with live role-players to practice life-saving skills and "put the pieces together" using the skills they just learned
- Q&A with instructors 
- Bonus for staying late: a brief intro to ersatz and improvised equipment options
- Is the scene safe? Are there any dangers? Are there any threats? Is the patient a danger? Is the patient armed? 
- Roadway/highway vs supermarket active shooter analogy 
- Life threats vs secondary treatments (tourniquet/chest wound vs scalp wound)
- Airway maneuvers: head tilt/chin lift, Left lateral recumbent 
- Airway devices: NPA vs OPA and sizing of both 
- Chest seals: vented vs non vented & burping non vented 
- Pressure dressing, wound packing, and when to choose. (also cover hemostatic vs non-hemostatic) 
- Basic burn injury care: stop the burning process, dry sterile dressings. 
- Break vs sprain of bone/joint. Splinting considerations (CMS), and splinting with cravats. 
- Shock treatment, keeping the patient warm, and dry, finding other sources of bleeding. 
- Basic evacuation considerations: distance, drawbacks of EMS transport, drawbacks of "homeboy taxi" 
- Ongoing assessment: rechecking interventions, reassessing for shock (pulse, temperature, skin condition, level of consciousness, mental status). 
- OTC meds, and concerns with blood thinners & injured patients. 
*This class will last approximately 3 Hours
---
We Also Recommend