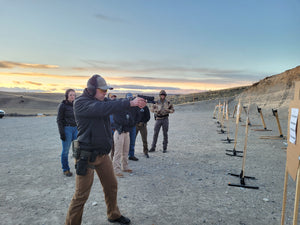 Handgun 2
Handgun 2 course builds upon the proper fundamentals developed in Handguns 1. The course is conducted exclusively at a shooting facility with live fire drills. Students will learn to shoot more dynamically: faster, under stress, and while moving.
You can expect to learn:
Review of Fundamentals
Drawing and presenting from a holster
Shooting positions
Strong and weak hand drills
Rapid re-engagement
Instinctive fire vs Long range fire
Turning
Lateral movement
Off-line movement
Sympathetic nervous system responses
Shooting quickly and accurately
Time of course: 6 hours
Prerequisite: Handgun 1
Minimum number of students required to run class: 2
What to bring to class: handgun, 2 magazines (3 recommended), 600 rounds of ammunition, outside the waistband holster, belt mounted magazine carrier, eye protection, hearing protection.
Meet at the TACTIC range outside Four Corners, down Camp Creek Road.  *** PLEASE make sure you leave ammunition in your car and empty your magazines before coming into the classroom. *****
---
We Also Recommend