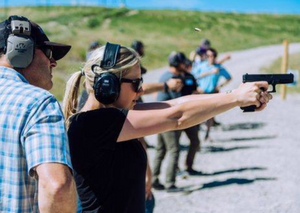 Ladies Only Handgun 1
2023 classes are all inclusive. Registration includes gun, gear, ammo and instruction. 
Ladies Only Handgun 1 is an introduction to firearms nomenclature, operation, and live fire drills. The pace of the classroom is such that a new learner feels safe and develops confidence. Safety is paramount! Basic firearms safety, gun handling, and techniques to make any loaded weapon safe will be covered.  

You can expect to learn:
Grip
Stance
Sight alignment
Sight picture
Trigger control
Follow through
Breathing
Unloading/Reloading
Drawing from a holster
Recoil management
Malfunctions
Time of course: 6 hours
Prerequisite: None
Minimum number of students required to run class: 4
What to bring to class: Weather appropriate clothing and a lunch.
Meet at the TACTIC classroom at 237 Quail Run Road in Four Corners, MT 59718
---
We Also Recommend