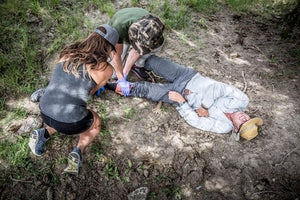 Trauma #2
Expanding on the Foundational Trauma Care class, TACTIC's Advanced Trauma Care class expands on what has already been learned and adds additional skills to better prepare you for the worst-case scenario. Scenarios like active shooters, evacuation scenarios, medications, and more. 
What you will learn:
-Safety discussion and patient triage
-MARCH touchup (learned in Foundational Trauma Care)
-Evacuation
-Medication use
-Chest decompression
-Wound packing 
-Splinting (how to make a splint, checking CMS before and after splinting)
-MARCH flow on casualty
-Wide variety of real-world scenarios for students to work through as a team.
TACTIC's Advanced Trauma Care class is very hands-on with lots of scenarios including fake blood, and simulated street and low-light conditions. Students must bring clothing that allows for dynamic movement and be exposed to water-soluble blood.
*Prerequisite: Foundational Trauma Care
---
We Also Recommend