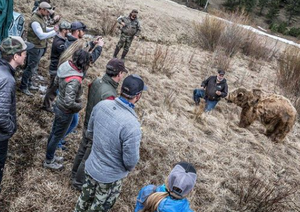 Surviving the Griz
2 Day Bear Awareness, Deterrence, and Firearm Training Course
This 2-day bear defense training course is a course all men and women who enjoy the outdoors should experience. Whether you are hiking in the backcountry with friends or elk hunting alone this fall, there is a chance of running into a Grizzly. Most people carry bear spray and a "Bear Gun" in the woods, but have very little confidence with these weapons, because they haven't trained enough. Training develops confidence.
Day 1 will consist of bear and bear spray knowledge. We will have a live Grizzly Bear at the training! This will give everyone an opportunity to get up close and personal with a real bear.  You will train with inert Bear Spray training cans and firearms. You will practice drawing from a holster against unexpected moving targets with added stress from TACTIC Instructors.
Day 2 of this course will be 6 hours of strictly handgun training.  This block of instruction mirrors our Handgun 1 course with an added emphasis on defending yourself against a bear attack.  
At the end of this training, you will have learned about bears and their tendencies, trained with inert training cans of bear spray, and put 300 rounds through your designated bear gun.
You also have the option to attend just the first or just the second day of the training. You can select that option during registration. However, we recommend registering for both days.
Prerequisite: none
Minimum number of students required to run class: 6
What to bring to class: Notepad, pen, handgun, 2 magazines (3 recommended), 600 rounds of ammunition, outside the waistband holster, chest holster (such as the Kenai Chest Holster or Hill People Kit Bag), or drop leg holster, belt mounted magazine carrier, eye protection, hearing protection, long sleeve garment.
Course duration:  (2 days of 6-hour sessions)
Where: Typically we will meet in the Bozeman Walmart parking lot for Day 1 and carpool/caravan to Animals of Montana for the morning half of the day, and reconvene at the classroom at 237 Quail Run Road in Four Corners, MT 59718 for the afternoon. Day 2 will start at the classroom in Four Corners and finish at the range on Camp Creek Rd.
*This course is currently by request only*
---
We Also Recommend